Hello and welcome to the first issue of the new EtsyMom Team newsletter! There have been newsletters in the past and it's about time we brought back this important group feature. The newsletter will be posted to the blog mid-month every month. Subscribe via email to keep up with events, activities and news!


---
Welcome New Members

In the last month, we have welcomed many new members. Please stop by their profiles and say hi!
PolkaDotCouture, Little Birdie Baby Shop, BlueBrookBoutique, Lisa Michele Products, Sam, Guzanito Kids, Natalia, Lil Wildflower, Livy Lou Designs, miatortilla, acheekymonkey, Bewhiskered, Shane, Carrie, shika, NinaBonita, BellaLou, www.DaisyandLilly.com, Baby's Indulgence, jdubrava, Leela Lou, Quirefly, Jacque, SewAdorableKids, Baby Swank, Abbie, Beyond Words, heathersdesigns2010, The Blushing Daisy, Jordan, CrissysCloset, Angie, sreneedesigns, Lexy, poppypeach, The Avid Beader, JBTucker, SugarBlossomBoutique, LoisAndLinnea, Jules, Homemade by Amanda, zigzagzucchini, USCGwife, Msatsia, Liv, PrimOuthouse, OrangeDaisyDesigns, Mengmonster, BoutiqueLittlePeople, CuteePat, and last but not least MyFragrantPlace


---
Happy Birthday to the following members

Between 10/17 and 11/16

Susann (10/17),
Am (10/18),
Kristine (10/21),
Bewhiskered (10/22),
New England Quilter (10/25),
Pink Stripe (10/25),
The Taffy Box (10/26),
Tilt (10/29),
Honeybelles (10/29),
brandilocks1029 (10/29),
Jennifer G (11/1),
Designingrose (11/1),
JennyMJewels (11/1),
Melanie (11/4),
Sabrina (11/4),
Melisa (11/6),
Jules (11/10),
jdubrava (11/11),
NewCreatioNZ (11/12),
Kid's Fashions by Linda (11/13),
heathersdesigns2010 (11/16)


---



New Committees


Over the last month, the team moderators have gathered and come up with different committees to help unite and grow
our team
. Below are the committees created, along with the committee leaders. Watch the forum on the official socialgo site for upcoming opportunities to help!
If you would like to help with one of the open positions, please send a message to
Missie
or
Kimberly
.
Welcome (Alice / Alicia)

Review/Approve new members, send out welcome letters to new members, manage the team's etsy page

Newsletter (Missie / *position open*)

Posted on the blog monthly. Includes new members, events, birthdays, members of the month, treasuries, tutorials, etc.

Special Events (Kimberly / Missie)

Create team-wide events, giveaways, daily featured members, charities,etc.

Gift Guide / EMCA (Jennifer / Anastasia)

Post gift guide to the blog. Manage EMCA entries, blogs, voting, etc.

Social Networking (Anastasia / *position pending*)

Post to twitter/facebook/etsy forum. Blog posters will share their links with facebook/twitter when able.

Quality Control (Stacey)

Checks blog to make sure links are working, do screenshots of treasuries, etc. Assist with other committees when available.
---



EtsyMom Curator Award


We are so excited to introduce the EtsyMom Curator Award - an award that will honor the dedication of one EtsyMom each month! The recipient will be the EtsyMom who helps to promote the team as a whole by curating the most EtsyMom team treasuries in a one month period! We will also be acknowledging each and every team treasury as well as the EtsyMom who curates it here, on the EtsyMom blog!

If you have not made a treasury before, and need help creating your first treasury, please let us know. We will be happy to help.

The big holiday shopping season is here, and we want to promote EtsyMom as a team to get our name out there and encourage others to buy handmade products from hard working, talented and dedicated moms. We think that a great way to start off is by encouraging all EtsyMoms to curate EtsyMom team treasuries. We have quite a few members - what a huge impact it would have on promoting EtsyMom! Many people check the treasuries often, and I know that some shop directly from them.

This is how the EMCA will work:

Each EtsyMom who curates an EtsyMom TEAM treasury will submit a link to their treasury link here in this thread: EMCA - EtsyMom Curator Award
Every single team treasury will get a screenshot (picture) posted to the EtsyMom Curator Award Blog as well as a thank you with a link directly to the curator's shop.

The EtsyMom who curates the most treasuries in a one month period will be the recipient of the EMCA, which is comprised of three parts: the winner's shop's EtsyMini will be posted on our team blog for one month as a thank you for helping to support the team, there will be a Marvelous Mom feature of them and they will also get to choose a prize from one of that month's sponsors.
The rules:
The sponsors for the month CANNOT be winners for that month

The same person cannot win two awards in a row.

In order for your treasury to count, you must use only EtsyMom items, and mention "EtsyMom" either in your treasury title or description so it's easily identified as an EtsyMom treasury.

The recipient of the award will be announced each month in the EtsyMom newsletter, and a special mention will go out to each EtsyMom who manages to curate at least 4 treasuries in that one month period. Between now and the holidays, selections will be made from weekly treasuries for inclusion in the holiday gift guides.

The EMCA challenge will be active from the 15th until the 14th of the following month. This means that the first challenge starts NOW! The first recipient of the EMCA will be announced on November 14, and their EtsyMini will be posted on the EtsyMom blog from November 15 – December 14.

Each month, we will have 3 new sponsors for the EMCA recipient of the month to choose from. You can also sign up to be a sponsor in the forum. An EtsyMom will be in charge of this list, and she will be choosing 3 different sponsors each month. The first "winner" will get to choose one prize from ONE of these participating shops.

NW Wonders
Butterfly Gem
Lil' Princess Bowtique

You can post in this thread to share ideas, as well as tips and tricks you've learned about treasuries. Let's all share the love, and help click and comment on all EtsyMom treasuries when you see them to help get the team more visibility!

Good luck and happy treasury hunting!


---



Etsy Tips


This month's tip by Kimberly (cinnamonspice)

Etsy Success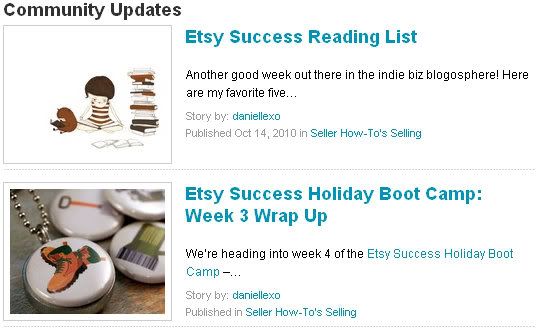 Are you an Etsy seller looking for ways to successfully promote your shop, boost your sales or do you want to stay up-to-date with current merchandising trends? Or maybe you're trying to crack the code on having a Treasury make it to the front page. Whether you just opened your shop last week or you've become a permanent fixture in this handmade marketplace, you can have first-hand access to the inside scoop on navigating the waters of running an Etsy shop. How, you ask? By subscribing to the
Etsy Success Newsletter
, you can have useful tips from Etsy labs and top sellers delivered directly to your inbox!
The biweekly newsletter is emailed to subscribers on Tuesday and Thursday of each week. Here's a peek at what we received in one of October's newsletters, including what's hot for the month in trending themes, tagging tips and how to get noticed by print and online media.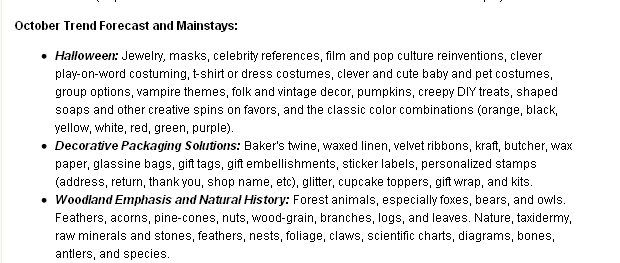 And if you're looking for a little push to get you going for the holiday season, check out the
Etsy Success Holiday Boot Camp
. Read about it
here
and sign up!
Would you like to submit an Etsy Tips article for November's newsletter? Send an email to Missie by November 1st with the topic you'd like to write about.
---
Helpful Tutorials
This month's tutorial by Missie (sykin)
How to create a Facebook Business Page
Everyone knows the benefits advertising has for your business. Selling on Etsy is a very "word-of-mouth" kind of business and what better way is there than reaching across the globe using Facebook? Creating a Business Page for your shop is easy and can be used to promote new items, meet new friends, and post updates about your shop!
To get started, log into your personal Facebook account. You do need a personal one to post to your Business Page. Once you are logged in, go to
http://www.facebook.com/pages/create.php
.
Here you are given two options: a Community Page and an Official Page. You are wanting to create an Official Page. Online Store falls under Brand, Product or Organization so you'll want to select that option and change the drop-down menu to Online Store. Fill in your Etsy shop's name in the "Page Name" field and check the box stating you are the official representative for the company. Then press "Create Official Page".
Ta-Da! Your page has been created! You will now want to go through and edit the profile information, add a profile photo, even add photos of your items. From here, you can add custom tabs along the top (such as the
My Etsy
tab).
If you ever need to get to your page, you can click "Account" in the upper right-hand corner of Facebook and click "Manage Pages". Once you have 25 people who "like" your page, you can create a custom URL by going to
http://www.facebook.com/username/
. Remember - once you create a custom URL, it cannot be changed!
Would you like to submit a Tutorial for November's newsletter? Send an email to Missie by November 1st with the topic you'd like to write about.
---
Special Promotions
Halloween sale on all Halloween items. All Halloween items will be 20% off. Visit
www.peaceloveandkids.etsy.com
---
That's it for this month's team newsletter. If you have any questions or suggestions for a future newsletter, please
send an email
to Missie. Thanks and have a great month!