Happy holidays, EtsyMoms! This time of year is about spending time with your family, friends, and loved ones. We have such a diverse group and that's what makes getting to know everyone so much fun. All of us moderators want to thank you for being such wonderful members of the team. Here's to the end of one year and the beginning of another!
This month we welcomed with open arms many new members. Please stop by their profiles, shops, and websites to say hello!
SweetBabyJanesShop
*
leahslittlebowtique
*
velvetcreambakery
*
heatheregley
*
mylittlepixies
*
Rocknbaby
*
caramagic
*
underanewlight
*
UpOnTheRoofFarm
*
LovebugBabyShop
*
angelicastardesigns
*
artas
*
thebitsybeau
*
bloomysbaubles
*
BuzzaBeeBoutique
*
PieceofCakeLawrence
*
deedsandpetunia
*
chrissiehermione
*
luckypennymake
*
keepsakesbytracy
*
Manzanitakids
*
alliethomas
*
PjCreates
Happy birthday to the following members! These beautiful women are celebrating their special day between December 17th and January 16th. Don't forget to swing by their profiles and wish them a happy birthday on their special day.
Special Events
EtsyMoms kicked off the holiday season with two big events: our extended Black Friday Sale and our first-ever Holly Day Blog Hop! Over 80 shops participated in the sale, offering special deals from free shipping to substantial discounts off their finely handcrafted goods. The event went smoothly and helped boost sales for some participating shops. We are always looking to improve; so we'd love to hear from you; please visit our forum
here
to leave your feedback about our Black Friday sale.
The Blog Hop was a huge undertaking coming on the heels of our team sale, so we knew there might be some wrinkles, but once the kinks were worked out I was really impressed with the team's efforts. The endless creativity and quality craftsmanship of our members continues to amaze and inspire me. For one week, readers were able to visit or "hop to" the personal blogs of 20 wonderful EtsyMoms. Each blogger shared a holiday inspiration post in the form of a yummy recipe or one of their favorite how-tos. One lucky reader won several custom items and an awesome basket filled with some of the finest goods EtsyMoms have to offer!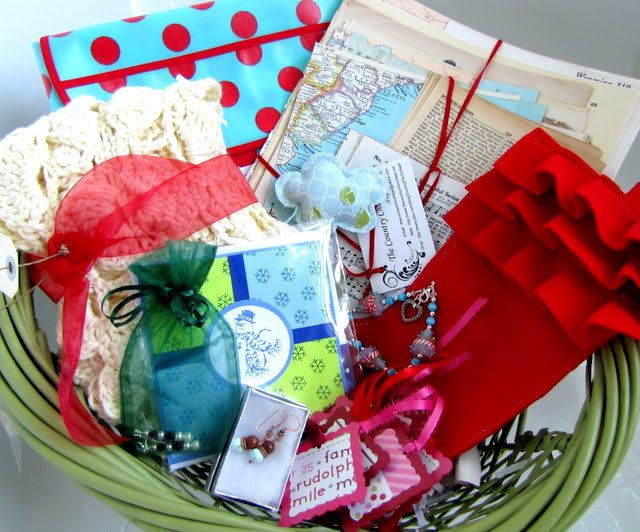 The Hop is still up on the team blog, so if you haven't had a chance to get around to some of the blogs please visit them
here
;you might find a new recipe for your holiday party or that do-it-yourself ornament that would make a wonderful gift or addition to your holiday decor. An extra big thank you to all of our participating bloggers for your patience and dedication to making this Hop a success! Please take a moment to visit the Socialgo site and leave your event feedback
here
.
One last note: Sykin has her hands full with the Newsletter Committee and so we're in need of a co-lead for the Special Events committee. Please contact CinnamonSpice (Kimberly) on Socialgo if you are interested and would like more details!
EtsyMom Curator Award
And the winner is:
katekatenyc
with three treasuries! Congratulations!
Runner's up, each with two treasuries a piece:
Bitsy Beau
Paint & Ink
Chez Whimzy
Thank you to all of the members who created treasuries this round of the EMCA! We didn't reach the same number of treasuries as the first month, but each one was still amazing. Can we beat the number of treasuries from the first EMCA month? Post your EtsyMom treasuries
here
to be entered to win the EMCA of the month!
Would you like to help the EMCA in another way? We are looking for sponsors for future months; sign up on our forum
here
! To learn more about the EMCA, including how to enter, win, or help out, check out our
original EMCA post
.

Etsy Tips
Stocking Up on Listings
By Jenny of loulou tutu
I love Etsy, and I love selling on Etsy, but as a busy Etsymom I certainly don't have endless amounts of time to create, list, and post. Sometimes I feel like it takes me just as long to list something as it does to create it. Thankfully, a friend of mine gave me the best tip ever: stockpile your listings!! She told me to create a file of unfinished listings that would allow me to "stock up" so that I wouldn't be losing time listing and posting every day or so. Of course I was confused, but after a very easy phone tutorial I was in business.
To stockpile your own listings, create a listing as you normally would. Fill out all the sections, including descriptions, materials, tags, price, shipping, and photos. When you get to the final page before you post the listing to your shop, instead of clicking "Finish," copy and paste the URL into a word or text document and save it to your computer.
I like to save mine as a Microsoft Word Document, but depending on your operating system you could also use Notepad or Text Edit for a Mac. When you are ready to post your listing, just copy the URL from the document, paste it back into your browser, review the listing, and click "Finish!"
This is a great technique for those with seasonal shops or just a great way to stay on top of things!
Good luck stockpiling!

Tutorial
How to Create and Send a PayPal Invoice
Even if most of your sales are processed through Etsy, there will still be a few situations when you may need to send an invoice to a customer. For example, for an Alchemy transaction where you need to collect half of the payment up front and half of the payment when the order ships, or when a customer mistakenly chooses "other payment" when they really intended to pay through PayPal, or when you need to adjust pricing without editing the item listing. You can easily create and send out invoices using PayPal. All you need is your customer's email address.
Step 1 – When you login to PayPal, click on the "Request Money" tab at the top.

Step 2 – Click on "Create Invoice". Choosing this will allow you to include a lot more information for the buyer including quantity, item descriptions, price per unit, taxes and shipping costs. It will appear more like a detailed receipt for your buyer than if you were just to click on "Request Money".

Step 3 – Select "New Invoice" from the drop down menu and click on "Continue".
Step 4 – On this page, you will enter all the details of the transaction.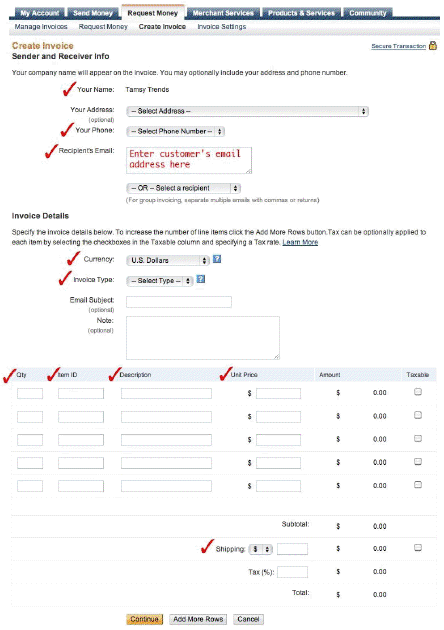 - The upper portion of the form is where you enter the sender and receiver
information.
- The lower half is where you enter the invoice details. This includes currency,
invoice type (usually "goods" for Etsy items), email subject and message for the
customer, as well as details for each item included in the invoice. For each item,
specify the quantity, item ID, description, unit price and if the item is taxable (i.e. you need to charge sales tax for the item).
- The red check marks show the required fields on the invoice, but I would suggest
still entering an Email subject and message for the customer even though it is not
required.
- At the bottom of the form, specify any shipping costs you want to charge the
customer as well as the percentage of your sales tax. The sales tax will be
calculated automatically once the percentage is entered.
Step 5 – Once you have entered all details on the invoice, click "Continue".
Step 6 – You will see a final preview of your invoice. If all looks okay, click "Send Invoice". The invoice will be sent to the buyer with a link to PayPal as well as instructions for how to send payment.
Step 7 – After sending the invoice, you will have the option of saving the invoice template for future use. If you do so, you can just use the saved template the next time you need to create an invoice so you will not have to enter all the information in again.
That's it! If you now go back to the "My Account" tab, you will see an entry in your My Recent Activity section for the invoice you just sent. It will have a "Pending" status until the buyer pays you.
Do you have any requests or suggestions for tutorials for next month's Newsletter? Please leave us a message… that's Maite (of Tamsy Trends), Meagan (of Baby Swank) and Nikki (of Nikki Rae Ink). Thanks!
Ask Me Anything
Do you need advice on something? Our advice columnist will treat your question as it should be treated, with care, consideration, and as a friend. Send questions to
lettermethis@yahoo.com
to receive advice on your business, raising kids, or even a fight with a friend or husband. Anything can be brought forward, and it's guaranteed to remain confidential.

EtsyMom Featured Seller:
Metal Smitten
This month's featured Etsy seller is Jess from Bloomington, Indiana, the talent behind Metal Smitten (
http://www.etsy.com/shop/metalsmitten
). Jess is a trained silversmith with a BFA in Jewelry and Crafts, and she creates beautiful, unique, high-quality sterling silver jewelry from scratch, using low-tech hand tools. You definitely need to check out her shop! She has something for everyone!

~* Tell us about yourself *~
Hi! My name is Jess, and I'm a young, small-time silversmith. I actually have a college degree in "Crafts," which I think is simultaneously hilarious and awesome, and I've been making silver jewelry for about six years now. I live in semi-rural Indiana on what I like to call my mini-homestead, where I have some happy chickens and a big garden, and I hope to become as self-sufficient as possible. Unable to find a "real job" last year, and exhausted from a decade of retail slavery, I decided to try sitting at home all day making shiny things instead, and I haven't looked back since. Being at home all the time also allows me the time to volunteer with my local animal shelter to help rescue tiny kittens, which I love being able to do. Yay!
~* What do you create/offer in your Etsy shop? *~
I make an eclectic mix of sterling silver jewelry, everything from artsy One-of-a-Kind pieces, to simple every-day charms and wee rings, to ultra-modern "Geek Chic" items with the Less Than Three symbol stamped on them. I try to offer a little bit of everything, at a range of price points, so that there's hopefully something for everyone! I make everything I sell using an actual fire-breathing torch and hammers and other hand tools; there is nothing mechanized in my studio! I try to use the eco-friendliest materials I can find, too—recycled metals, fair trade gems, and even the little jewelry boxes I use are made from recycled paper.
~* How did you get started in your line of business? *~
Well, I went to Art School, and then realized I couldn't paint and had nothing Deep or Artistic to say with my work anyway. But I had a friend who was taking a metalsmithing class, and like a crow to sparkly things, I was hooked. Jewelry is fun because it's still a form of art—it's still using skill and talent and devotion to create something tangible and meaningful that wasn't there before—but the end goal is to just have fun and make pretty things, to make other people smile and feel good. There's no worrying about the meaning of life. There's no insatiable urge to cut off your ear. I like my ears. I can put earrings in them.
~* Describe your creative process *~
Well, in school they teach you to meticulously sketch out detailed and measured drawings of your intended project. I tend to just stare at a piece of metal or a pretty rock for a little while and then mash it all together inside my brain until it works. Usually, it starts to "work" at 2 am just as I'm wanting to sleep, which is very convenient as you may imagine. I'm also very much a perfectionist though, so once I start actually making the piece, I spend a lot of time making sure everything is golden (figuratively speaking—I only work with silver). It's very important to me that the jewelry is totally functional and comfortable and durable, as well as pretty. I pride myself on my stone settings, and I always pay attention to make sure nothing is ever rough, stabby, or imbalanced. So form and function both play a huge role in my designing process.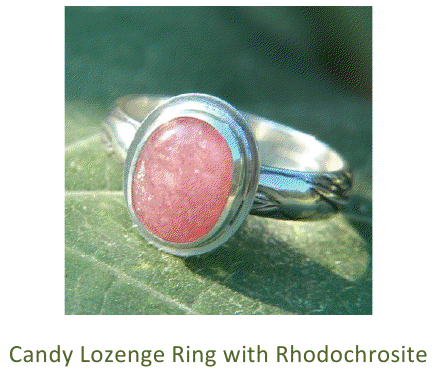 ~* Where do you find your inspiration? *~
More often than not, I use the metal to enhance a pretty rock that I've taken a fancy to. I tend to be very eclectic though—one day I'll be drooling over Art Nouveau imagery, and the next I'll be feeling Ultra-Modern, and the next I'll be fascinated by mediaeval fashion. I think I might be watching too much late-night History Channel, honestly.
~* What's your favorite item in your shop at the moment? *~
This changes on a weekly basis! Right now it's definitely my
Spoon Pendent
!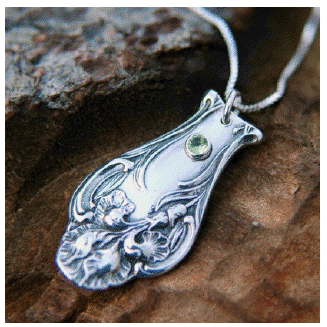 ~* How do you promote your work? *~
I promote almost exclusively online, mainly just by being conversational with fun people and trying to be helpful in general. I figure, I hate pop-up ads, so that's something I'd never do to other people. I feel like my job is just to make my products available, list them in appropriate places, and if people want them, they'll buy them. As far as promoting yourself goes, positivity works way better than perceived desperation.
~* What's one of the most important lessons you've learned since starting your
business? *~
Look at things objectively, like you're not emotionally attached to your business. Be willing and able to accept constructive criticism. Don't be afraid of change if something isn't working, and don't be afraid of success if it is working!
~* What advice would you give someone just starting out? *~
Never stop growing. Don't get upset if things are slow when you start out—take a step back, breathe, and think of what else you could be doing in the down-time. If you just set everything up then sit back and wait, you won't get anywhere. Your photos can ALWAYS be better. Your products can always be diversified. Descriptions can always be improved. Your presence can be increased. Your pride in your work can be shown in new ways. Never let yourself get stagnant. Take any high seller on Etsy and go look at their very first page of sold items, compare their Then with their Now, and know that they too had to start somewhere.
~* Where else can we find you online? *~
Facebook:
www.facebook.com/metalsmittenjewelry
Twitter:
www.twitter.com/#!/metalsmitten
Tumblr:
www.lt3omg.tumblr.com/
So, thank you so much for taking the time to read about a fellow Etsian! Etsy wouldn't be what it is today without the support we give and receive from each other! Be sure to check out her shop and show her some EtsyMom LOVE! See you all next month!
Thanks for another great month in the team. We can't wait to welcome more talented women into the group, get to know you all even more this next year, and see what beautiful creations you come up with. If you'd like to contribute anything to the newsletter, please send it via email to Missie and Heather (
sykin.at.etsy@gmail.com
and
allyouneeddesigns@gmail.com
).
—Missie, Heather, and the entire Newsletter Committee