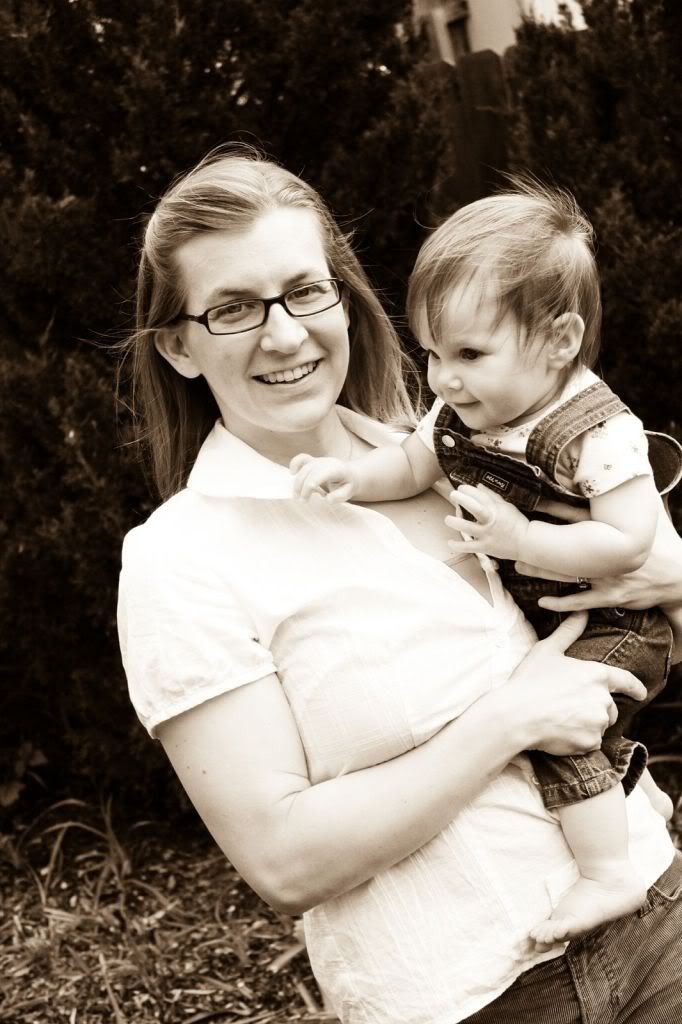 EtsyMoms is a team of fabulous women entrepeneurs who are moms first! Each Monday we "go behind the scenes" of a team member's shop to get to know more about her as a woman, mom and artisan. This week we take a peek into the life of the talent behind
Mama Hoot Designs
, Charity. Don't you just adore her shop name? And you will fall in love with her innovative, personalized creations for baby and you!
Tell us about yourself!
I am a stay-at-home-mom to a beautiful girl, dubbed Lil Hoot (16 mos) and our fur-baby, Zeke aka Hoot Dog (4). I am also a Christian, an Army veteran, a cyclist, a knitter and a wanna-be baker. Becoming a mother somehow allowed me to release my fear of creative failure and just try new things. I don't back down from a challenge and I tend to just dive right in.
What makes you unique as a woman?
I believe that we're all more alike than different but there are a few things that make me, me. I'm an open book.
What do you love about kids?
Hugs, kisses, endless curiosity, love of getting messy, smiles, laughter...it's an endless list!
What are you currently doing besides your creative craft?
Raising a toddler consumes most of my time, but I try to make time for morning walks, a few special messy activities, baking and bike riding throughout the week. I write stories and
blog
. I just finished a corduroy coat for my daughter. I have also started quilting and am participating in a Virtual Quilting Bee with some of my Ravelry Mom friends.

What is the address for your Etsy shop? http://www.mamahootdesigns.com/

What do you offer in your Etsy shop?

Primarily personalized and custom gift items for babies, toddlers and Moms. My newest and favorite items are Growth Charts and Quiet Books. Both are personalized for the intended child. I even have a Create-a-story quiet book option where I write a story/rhyme to go along with the quiet book.
I also have crayon buckets, fabric alphabet sets, personalized blankets, birthday shirts and sundresses. I also design custom made-to-order tote bags, purses, diaper bags and shopping cart covers where the client can choose their own fabric and options.


Where do you create?


I took over a spare bedroom in our basement with two great windows. It is a great space, but still pretty bland. I have grand ideas, just not enough time to do them!
Where do you find your inspiration?
Primarily, my daughter and our friends' children. My favorite product,
quiet books
, were inspired by a quiet book sewn by my aunt when I was a child. It is a fun and interesting learning book for kids that also has intricate elements that are intriguing as a crafter.How did you get started in your line of business? It seems like most people answer with "I've always been interested..." and I did learn the basics from my mother and grandmother as a kid but it was not until a few years ago that I really got into it. I walked into my local yarn shop, learned to knit and got absolutely addicted. When I got pregnant I really got into sewing. Then my machine died and I started looking at new machines. My new machine really helped me unlock my creative potential and that's when my husband and I decided it was time to go ahead and open an Etsy shop.
Fabric Alphabet, $38


How do you promote your business?

I talk to everyone I meet and I take along or wear (or have Lil Hoot wear) something that I've made, even if it's not something in my shop. I blog and participate in other people's blogs.

What is one of your most important lessons you've learned since starting your business?

I recently started my business so I am definitely still learning. Primarily, I have had to learn balance - between being online and creating product; between work and life; between shop owner and Mom.

Personalized Kids Fleece Blanket, $38

What advice would you give someone just starting out?

Don't read too much. It is important to make sure you have yourself set up correctly and legally. It is important to make connections with other Etsians and crafters. But I found it absolutely overwhelming to read all the advice, rules, suggestions, etc. Make a product, love that product and promote it.
What are some of your favorite online shops on and off Etsy?

Most of my favorite online shops are places where I buy materials -
But not all of them -
What are your other sites ?
www.mamahootdesigns.blogspot.com/
www.facebook.com/MamaHootDesigns
www.twitter.com/MamaHootDesigns
Don't forget to stop by Charity's
Etsy
shop where she is offering you 10% off all purchases (excluding shipping)! Just mention "EtsyMom team" in the notes to seller during checkout. And leave her a comment here telling her which item is your favorite.