Happy March and Happy St. Patrick's Day! We here at the EtsyMom Team are so happy to have you stop by to check out our newsletter this month. We've got a lot of really awesome things to tell you about! So how about I quit blabbing and get to it, huh?
First, we need to welcome some very amazing mothers to our group. These members joined the EtsyMom Team between February 17 and March 16. Stop by their profiles and shops to say hello!
sarahgortiz
*
luanabythesea
*
TwoSweetPotatoes
*
hooksnloops
*
SewOriginal
*
yellowfinchdesigns
*
birdsongbows
*
mazska
*
SweetMiaBoutique
*
ColesCabinCrafts
*
KindredScents
*
noahbear1
*
tscrapper
*
KaleidoscopeArtGifts
*
CoutureBebe
*
munchkinsallaround
*
Dainty Diva Bows
*
kaileesmomma09
*
arreolamaria
*
dreambigcurecancer
*
CustomMemoryBooks
*
LinguineRavioli
*
Sweetpea4kids
*
IHeartQuotes
*
misterwiseguy
*
Earthworx
*
LarissaWowk
*
noempire
*
MyArtsyBaby
*
draftsmith
*
UniqueManningJewelry
*
OldWorldCrafts
*
TravelingTotShop
*
soulgraffiti
*
RebornBabyBlues
*
photobyjodi
*
LolazThyngz
*
plumstreetprints
*
Mimisdresshop
*
LilMissGoodyTutu
*
bekahbell
*
Ravy17
*
althea1326
*
mytangledskeins
*
Wishingwellportraits
*
ItsyBitsyZen
*
geogaia
*
serendipity11beaded
*
MommyofTy
*
jezbilinka
*
AJDesigns21
*
Sunshineandlolli
*
HairDolls
*
stitchinnetka

Happy birthday to you! Happy birthday to you! Happy birthday, dear EtsyMoms! Happy birthday to you! These beautiful women are celebrating their birthdays between March 17 and April 16. Let them know you're thinking of them on their special day!


Special Events
By Kimberly (cinnamonspice)
Did you know that as a part of the EtsyMom Team you are in a unique position to help other moms in need? The team has a history of donating to various charities; whether it is an EtsyMom in need or another organization that supports medical research such as St. Judes.
Currently there are two ways you can support:
Charity Auction for EtsyMom
The Team Leaders recently became aware of a longstanding EtsyMom who is in great need of financial assistance and would like to help her out as much as possible. On April 1st; we are holding an auction on our own newly created charitable auction blog (we'll provide the link once it is up and running). The proceeds from the auctioned items will be donated to assist this mom.
• Sign-ups will be open until March 25th on
this forum thread
.
• Auctions will begin April 1st.
• Moms can donate as many handmade items as they'd like to be auctioned off. Each mom is responsible for writing up an item description (include your shop name and link) and emailing two or three photos to Missie (etsymomteam@gmail.com) by March 30th. No late submissions please!
• We are creating a blog to host this and future charitable auctions; details will be provided once it's up and running.
Tsunami Relief Effort Promotion
While we are not organizing a team-wide event, we are aware of the various ways team members are contributing to the ongoing effort to assist the Japanese in their recovery from the devastating natural disaster. We would like to create a list of shops that are in some way supporting the relief effort and publish it on the blog (the list will be updated as shops sign up). Visit Socialgo and
sign up here
if you'd like your shop to be on the list.
1st Blog Series on Social Media
Beginning February 2nd, for 5 weeks, EtsyMoms held our first blog series on Growing Your Business with Social Media: A Mom's Perspective. We invited 5 guest bloggers, all full-time indie business owners and mostly moms, to provide their insight on how to succeed with social networks like the Etsy Forums, Facebook, and Twitter. We were fortunate to have Tara Gentile, the fabulous editor of
Scoutie Girl
who is often featured in Etsy's Storque, to share her thoughts on maximizing your time with social media via Skype Chat! The series was extremely well-received, garnering even the attention of Dave, Etsy's Social Media Guy! And the best part is you can still benefit from the series by visiting the team blog
here
!
Proposed Events for Remainder of the Year
2nd quarter
• Mother's Day Charity Event
3rd quarter
• Christmas in July Team Sale (to coincide with Etsy's sale)
• Fall inspired: Crafty Paint Swatch Blog Hop
4th quarter
• Another blog series: Topic TBA
• Black Friday Team-Wide Sale
Need Active Committee Members
We welcome any team members who have suggestions for team events, can help put the events together, or are willing to help with promotional graphics. Email etsymomteam@gmail.com with SEC in the subject line for more details!


EtsyMom Curator Award
Congratulations to our winners!
GRAND PRIZE
TAMSY TRENDS
with 11 treasuries
First Runner Up
HANDMADE WHIMZY
with 6 treasuries
Second Runner Up
PETITE TUQUES
with 4 treasuries
We had 18 participants and 38 treasuries were made.
Congratulations ladies, and thanks for playing!
A big thank you to our sponsors:
AllYouNeedDesigns
MyLovebugBaby
juneatnoon
katekatenyc
The March/April EMCA has just begun. I'm still hoping for 50 treasuries in a month. We can do it!
Also, check the first post in the
EMCA thread
for links and tips on treasury making.

A Note from the Gift Guide/EMCA committee:
Hey EtsyMoms! We are having so much fun featuring you in our monthly gift guides and seeing the great treasuries you make showcasing team members. We'd like to invite more of you to get involved, join the fun, and promote our team members! One of the things our committee would love to see is more of our treasuries being "hot" and perhaps even making it to the front page! With this in mind, we have a few tips and ideas to share.
Team Promotions through Treasuries
by Meg (BeachsideTreasures)
Like most everyone else I know, when I first opened my shop on
Etsy
, I had no idea what I was doing. I filled out all the sections, put in a bunch of items, made a page on
Facebook
, emailed friends and family, and then just sat back waiting for sales to come pouring in. But unfortunately, after months of waiting, nothing happened. I followed
Etsy
blog posts about taking better photos, making yourself known in the forums, adding more items and refreshing, and still nothing. Then I found out about teams, and that's when things finally began moving. Just by joining a few teams and promoting other team members, I found myself gaining many more views, and therefore sales.
One of the most important things I've learned is that paying it forward comes back to me tenfold. Lucky for all of us, the team that has seemed to bring me the most visibility has been the
EtsyMom Team
.I think a lot of it has been a result of making treasuries galore to promote other EtsyMoms.
Now, I know many of you think that it takes too much time to make a treasury, and with the kids, work, your shop, and everything else, who has time? But I honestly don't take too much time at once doing it. I break it up and do many ideas in small increments at a time. Once I post a treasury, I contact everyone in the treasury and ask that they share it everywhere. Then I post the treasury everywhere I can. I have many of my social networking sites linked together so that I can just post it in one place, and it automatically shows up on all the others. Finally, I post it in all my team forums and on the
EtsyMom Socialgo page
(which is also quick and easy since I write up my promotion on the treasury once, then copy and paste it everywhere else).
I am still amazed at how many treasuries I am featured in just because I featured someone in one of mine one time. Plus, by posting the most EtsyMom treasuries on the Socialgo EtsyMoms Curator Award (EMCA) forum each month, you can win prizes from other EtsyMoms and get featured on the team blog, which means even more visibility. And we all know visibility is what helps bring in the customers and the sales. You can have the most amazing and unique item, but if no one knows you exist, you won't sell a thing!
If you still don't think you have time to make treasuries, you can also boost your visibility just by visiting other people's treasuries and helping them get points. Check out
Anastasia's (LAccentNou) forum post
to learn how important it is to get people visiting your treasury as quickly as possible after its creation. I have found that just by commenting on people's treasuries and sharing my favorite ones, I then get views and features in other treasuries—people love to promote those who promote them. I usually try to go to the EMCA forum at least once a day (sometimes I try twice a day since getting comments within the first five hours is the most important), and visit each treasury that was posted that day, comment on it, and click on one item. Then I pick my favorite treasury that day and promote it everywhere I can (which again, is easy since I only have to post once to get it everywhere). Even if there are twenty treasuries posted a day on the EMCA blog, it still only takes less than ten minutes to do all of this (I usually just bring my iPad into the kitchen with me, and do this while I'm cooking dinner).
So let's all pledge to start really promoting each other, both by making treasuries for the
EMCA
and by showing tons of love for each other's treasuries. Remember, if you promote other EtsyMoms, it will always come back to you through promotions, visibility, and most importantly...sales!
Making Beautiful Treasuries
by Anastasia (LAccentNou)
Etsy's Merchandising Desk is published in the
Etsy Seller Handbook
every month. Within this helpful article, Etsy admins share merchandising tips for the month. Etsy's goal is to create a healthy balance between promotions for traditional holidays, seasonal changes, cultural events, and lifestyle trends while keeping you in the know with ideas, tips, and inspiration for the way you think about merchandising your Etsy business. After taking a peek at the Merchandising Desk, it's easy to know which current trends and themes of the month Etsy will accent or feature more during the next weeks.
In addition, the Merchandising Desk includes a lot of tips about
making and tagging
your treasuries. You'll see a lot of treasuries featured on Etsy's front page that refer to or highlight the themes mentioned in the Merchandising Desk of the month. A front page feature is a great opportunity to get more exposure, gain future features in blogs and other Web pages and, of course, get sales!
Make beautiful treasuries
by taking a peek at the Merchandising Desk and then tagging your treasuries properly. By doing so, your curated collections will have a better chance of being found and noted by buyers and Etsy admins, and getting featured on the Etsy front page. Etsy gives us some helpful tips for treasury making that you should always keep in mind:
• Be diverse! No more than one item per shop.
• Don't include your own items. Spread the love! You'll see how artists you've featured will comment on the treasury and often include your creations in their own future treasures!
• Make it beautiful! This one sounds like a given, but while creating your treasury, be sure to sit back and look at the screen a few times. Do the items flow together visually? If not, rearrange the items until the treasury looks pleasing to the eye.
If you are not yet receiving the
EtsyNewsletter
to your email, click on the link, select any or all of the check boxes you're interested in to sign up, and stay tuned!
How You Can Help
by Jenn (LavenderAve)
There are so many ways you can help promote team member's shops. Here are just a few:
• Please play the EMCA! The more of us who participate and make team treasuries, the more attention all of our shops and team will receive.
• Visit the EMCA blog, become a follower, and use it as a link to the treasuries on Etsy.
• Comment on the treasuries and click on at least one item.
• When making treasuries, remember to use the hints and tips provided by Etsy admin and by our team members. Anastasia has posted some great tips both here and on the Socialgo site.
• Megan Visser (BabySwank) has created a blog series with great tips on how to make the front page on Etsy.
• If you are looking for a way to get more involved, check out the committees in the forum. We all would love your help!

Social Networking
By Missie (sykin)
Did you know that we have regular threads going on over at our
Etsy Team Page discussion forums
? This is the place to have some silly chat with other team members! Every month, we'll come up with a monthly chat thread. We'll also set up a weekly themed promotional thread for you to participate in. Don't be shy!
We're also getting the word out to our vast Twitter following. We currently have 346 Twitter followers, and we're working on ways to grow that number. Wouldn't it be awesome if we had more Twitter followers than members? Yeah, I think so, too! Check out the
thread on our private forums
to get your promo posted on the
official Twitter page
.
WOO-WOO!!!!! All aboard the Twitter Train.
Check out the forum
for all the details, but the main point of the Twitter Train is a way for us to grow followers, promote each other,
and
get some awesome prizes! Interested? I thought you would be. Go check it out!

Etsy Tips
9 Sneaky Etsy Tips
By Jenny (louloututu)
Things were a little busy for loulou tutu this month so I thought I would pass on one of my favorite Etsy tips articles by Jessica Schope. Enjoy!
9 Sneaky Etsy Tips
By
Jessica Schope of Etsy Advanced
Here are some helpful tricks to help you improve your Etsy business:
• Re-new or list a few items before Etsy treasuries open up, and you'll be featured in a lot more treasuries.
• If your Etsy item makes it to the front page or gift guides, make sure to edit your quantities (if you have more than 1) so that it won't sell out and get your item kicked off the front page or gift guide.
• How to make a listing in advance, without activating it: Create the listing. When you get to the final page, don't click the finish button, and then bookmark the page. Go back to the bookmark when you're ready to activate.
• Use your Etsy shop name as one of your tags. When people are new to Etsy, many times they don't know that they have to click the drop down menu and pick "sellers" before they can search a seller. This way you'll come up even if they just use the regular search.
• Customers can complete check-out without a Paypal account. At checkout, have them choose "Pay with Paypal" and when they get to Paypal they can click Continue next to a small form that says "Don't have a Paypal account? Pay with your credit card or bank account."
• Whenever you go to your Etsy shop, click "appearance" and then "save" at the bottom of that page, even if you haven't made any changes to the page. By doing that your Etsy shop will move to page one, if anyone is doing a search in "shop local."
• Use "location" to its fullest. Put your city, county, state, country, zip, and city or country nicknames or abbreviations. Example: US, USA, America, United States of America.
• Use stats from flickr and majaba to find out what is most popular and keep those top items on your first page and use them as your Etsy avatars and showcase items.
• Instead of making trips to the post office, have your mailman take your packages with him. It's called Carrier Pick-Up, it's free, and it's offered by USPS.
http://www.usps.com/shipping/carrierpickup
For more Etsy tips, get
Etsy: Advanced free

Tutorial
How to make an Origami Shamrock
By Missie (sykin)
Given that it's St. Patrick's Day, I couldn't help learning how to make an origami shamrock. I had to look up instructions on the internet, but I found this great tutorial and decided to make it and take my own pictures along the way. What do you guys think? It's super easy and fun to do!
Supplies:
You will need 4 square pieces of paper. I used 3 squares that were 8" on each side, and then 1 square that is 4" on each side for the stem. You can use whatever size you'd like, though. :)
Instructions:
Step 1: Start with your first square sheet of paper, color side down.
Step 2: Fold in half both directions so it makes an "x" in the middle of the paper.
Step 3: Fold the top part down to the middle line.
Step 4: Flip the paper over and fold the top corner down until it meets with the center line. Repeat with the other top corner.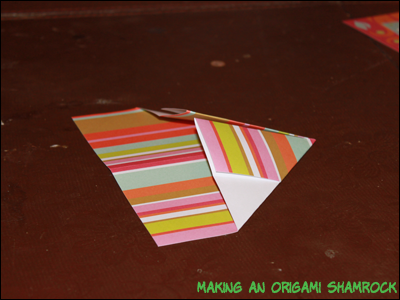 Step 5: Flip the paper over again and rotate it so the point is toward you. Fold the point up so it's touching the "bottom" of the paper.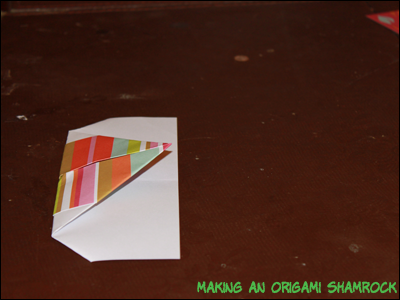 Step 6: Rotate the paper again so the point is toward you again. Flip the paper over so the rectangle shapes are at the top.
Step 7: Lift the top small rectangle and squish it in the middle so it creates a triangle. Fold flat. Do the same with the other side as well.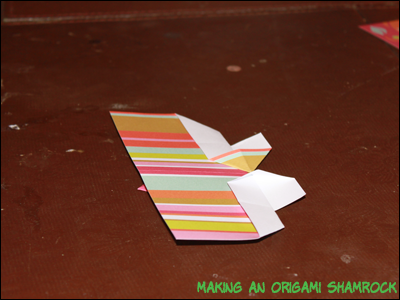 Step 8: Fold the right edge so it meets the line in the middle. Then fold the left edge so it also meets the line in the middle.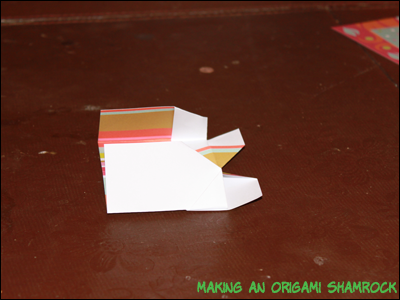 Step 9: Fold the top corner piece down so it makes a pointy triangle at the top of the rectangle. Now fold the second piece on the other side.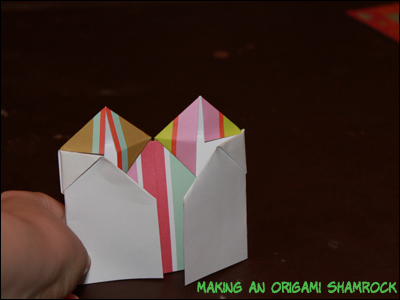 Step 10: Fold the point of the triangles down to touch the top of the rectangle section.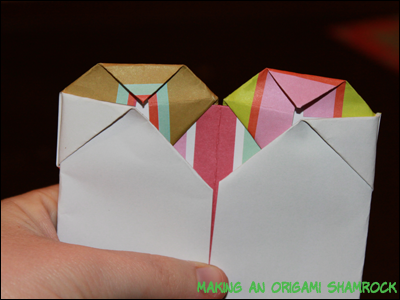 Step 11: Flip the paper over. It should look like a heart (awwww). You're done with part one.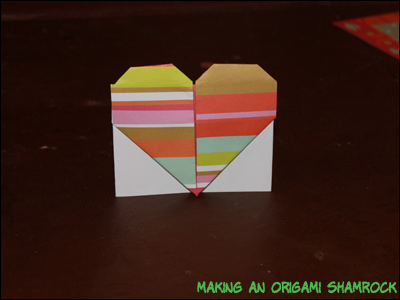 Step 12: Repeat steps 1 through 11 with 2 more sheets of paper of the same size. Once you have 3 of them, you are ready to continue on.
Step 13: Take two of the pieces and slide them together by putting the flap of your second heart between the heart and flap from the first heart.
Step 14: Take your third heart and slide it together just like you did with your second heart. They should fit together perfectly and make a shamrock minus stem.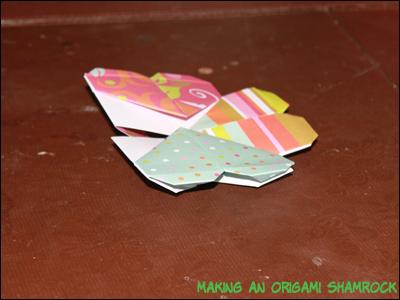 Step 15: Carefully flip the whole shamrock over. Fold the section that is not attached to a heart at the bottom up so it makes an empty triangle section. Put the shamrock design aside for now.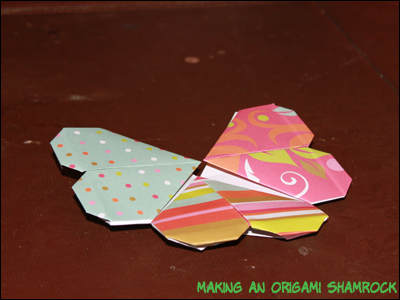 Step 16: Take the 4th sheet of paper and put it color-side-down. Fold it along the diagonal and then open it again.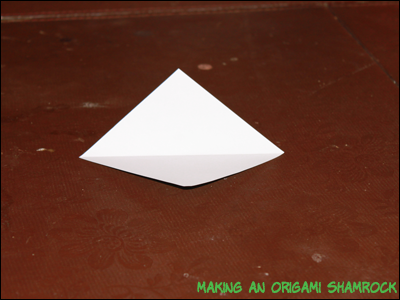 Step 17: Take the bottom left side and fold it so it's touching the middle line. Do the same on the right side. It will make your paper look kind of like a kite.
Step 18: Fold the top left side so it touches the middle line as well. Do the same on the right. Now your piece should really look like a kite!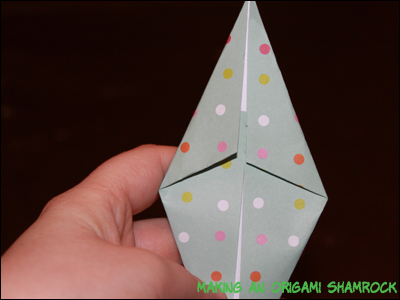 Step 19: Fold the whole thing in half.
Step 20: Fold the bottom up to the top in the middle so the point is at the top. Congratulations, you have a stem.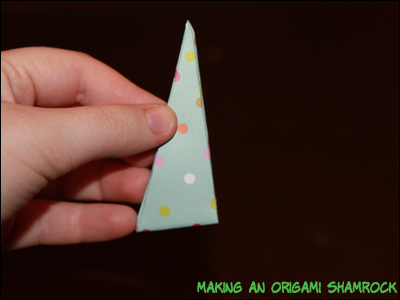 Step 21: Attach the stem to the empty triangle part of the shamrock and voila! You have a magical St. Patrick's Day shamrock! I cheated a little and used a bit of double-sided tape to keep it all together. I'm not the best fold-er. Ha!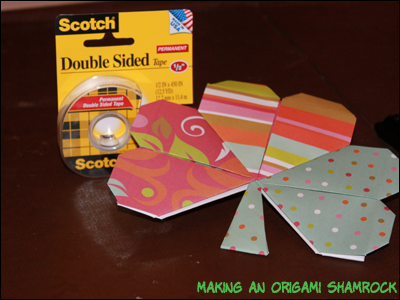 I'd love to see your creations! Take pictures and leave them in the comments or on our
Facebook page
for us to see!

EtsyMom Featured Seller:
Coco & Lola Beauty
Our featured Etsy seller for March is Iris of
Coco & Lola Beauty
.
Coco & Lola Beauty offers beauty products such as soaps and scrubs that are carefully created with the goal to invigorate, moisturize, and regenerate the skin.
Tell us a bit about yourself.
My name is Iris and I have been making beauty products for a couple of years now. I have always enjoyed making things and decided to open up my own business last year.
What do you create/offer in your Etsy shop?
I offer soaps, oil perfumes, body butters, scrubs, and lip balms.
How did you get started in your line of business?
I got a handmade soap as a gift for my birthday from a friend of mine, and thought it was a really neat and creative thing. So I researched more into how to make soaps and from there on I started making my own soap and also began to create other products as well.
Describe your creative process
I usually get a lot of ideas of what I want to create and then write them down. Afterward, I go back to those ideas and try to create them. If something doesn't really work from the idea, I move on to the next idea and go from there.
Where do you find your inspiration?
My inspiration comes from going to different places like the beach or outdoors. Also, if I go to someplace new, I usually get a lot of inspiration from the new scenery.
What is your favorite item in your shop at the moment?
My favorite item in my shop would be the
waterfall trail soap
because of its beautiful color.
How do you promote your work?
I promote my work mostly by using twitter.
What is one of your most important lessons you've learned since starting your business?
The most important lesson that I have learned since starting my business is to really be organized and to know what you're going to do next.
What advice would you give someone just starting out?
I would probably tell them to have a business plan and have everything set up to make it easier for them when starting out.
What are your other sites (Facebook, Twitter, blog, and so on)?
Twitter:
http://twitter.com/cocoandlolasoap

And that ladies, is it for the sixth edition of the EtsyMom Newsletter. Now that we've been doing this for six months, we'd like to ask YOU to provide us with some feedback. We'd appreciate it if you could reply to this post and answer the following questions:
Please rate the newsletter on a scale of 1–10 (1 = awful, I don't even read it!; 10 = totally awesome, I can't wait for each issue!)
Why do you rate it that way?
Do you have any suggestions on ways to change or improve the newsletter?
Do you enjoy reading it via the blog or would you like to have it emailed to you each month?
We want to be sure to provide you with a monthly newsletter that is entertaining and enjoyable, but most importantly, useful! Without any feedback, we don't know if the newsletter is as effective as we'd like it to be. It's a lot of work to put together each month and we love doing it; we just want to ensure all of the efforts are worth it! Thank you for reading and commenting!
As always, if you have questions or concerns, please email Missie (sykin.at.etsy@gmail.com) and/or Heather (allyouneeddesigns@gmail.com).
Happy Spring!
Missie, Heather, and the whole newsletter committee