Happy February to all! We're so excited to be putting out another fabulous newsletter this month. Some things you should check out this month include the "
Navigating the Waters of Social Media
" blog series and the
team chat threads
on the Etsy team page. Remember, the team page is used as a public social stomping ground mostly and is not moderated by the team leaders on a regular basis. All team announcements and information will continue to be posted to our private forums on
socialgo
. But have fun on the Etsy team page!
We are thrilled to welcome the following group of women to our team. They joined between January 17th and February 16th (if I missed you, I apologize and please let me—Missie—know!). We have grown into quite a team—and with the number of members we currently have (over 500!), we could easily have some serious visibility in the Etsy community. So step on up and welcome these beautiful women to the group!
mclaughlindesigns
*
LovelyFitzgerald
*
EpiphanysCorner
*
ContinentalKnitter
*
amandaraek
*
underduck
*
MadeByAPrincess
*
lolajaes
*
juneatnoon
*
MadalineJane
*
apple n amos
*
SewSeaminglySassy
*
lilliannelee
*
UrbanTot
*
madebylovinghands
*
lovelyflower
*
Sewsupercute2010
*
AnalisaRose
*
3FunkyGirls
*
MamaTita
*
prettyprettybaby
*
beckorama
*
TaffieWishes
*
paolinajewellry
*
missmerryweather
*
OurLittleOnes
*
spoiledbratdesignz
*
BijouBabyBoutique
*
faithwithroses
*
StoryTimeDesigns
*
DaisiesAndDamsels
*
ForMySweetDaughter
*
RoseTreeOriginals
*
2nifty
*
3sweetpeasjewelry
*
AstersInAugust
*
BrooklynEllaCouture
*
Baby2BigKid
*
peaceloveowls
*
LuckySparrowJewelry
*
Babybuttontops
*
MaiseysDaiseys
*
darlingdesignsbytng
*
CobbledStone
*
cherlynl
*
invitingmoments
*
PeepiesBoutique
*
MomentsInTimeDigital
*
KendrasKreations
*
MaiseysDaiseys
*
maureencracknell
*
Idarose
*
TNTees
*
Leapkahian
*
sageandkai
*
OhOliveOrganics
*
LookingGlassSelf
*
rubyblueinc
*
NotyBaby
*
NatesMommyMadeIt
*
uniquescrapdesigns
*
AdelleRose
*
TuTuRifficDresses
*
Erica Designs

Happy Birthday to you. Happy Birthday to you! Happy birthday dear awesome EtsyMom team members……….HAPPY BIRTHDAY TO YOU!!! Check it out—the following moms are celebrating a birthday between February 17th and March 16th. Are you not listed but should be? Update your profile on the socialgo site and send Missie a message!


Special Events
By Meagan (babyswank)
Thanks to all of you who participated and supported the team during the Valentine's Day Treasure Hunt Event! We had an amazing turn-out. Of everyone that entered, 11 lucky individuals found all of the hidden icons, which entered them into the drawing for prizes.
And the winners are…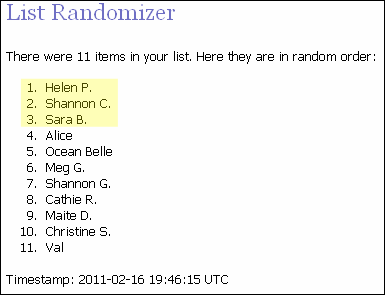 Congratulations!!! The three of you will soon receive an email that you will need to reply to within 48 hours to receive your prize package.
We received more than one request to host another Treasure Hunt. Is this something you're interested in seeing? Leave a comment and let us know!
We also want to encourage your continued participation in our mini blog series: Navigating the Waters of Social Media. We're almost finished with the four-part series. So far we've covered the topics of the Etsy Forums, Facebook, and Twitter. There's one more part left, and trust me, you don't want to miss this one! Stay tuned for it next Wednesday right here on the
EtsyMom Blog
!
Here's a heads-up on the next team event.
We'll be hosting a charitable auction for a fellow long-standing team member who is in need of some help. The event is still in the planning stage, but we'll post the full details very soon. Keep checking back with the
blog
and on
socialgo
to ensure you don't miss anything.
Here's the gist: team members will donate an item of their choice. The items will then be auctioned off, and the money from the auction will go to benefit this mom. So come on! Let's all work together and generously support our fellow team member.


EtsyMom Curator Award
By Jennifer (lavenderave)
Thank you to all who participated in the EMCA this last month! Altogether, 36 EtsyMom treasuries were made!
congratulations to Meg of
Beachside Treasures
!
Meg takes first place with 12 treasuries.
2nd Place goes to
Lucky Sparrow Jewelry
with 5 treasuries.
A special thank you to our sponsors: Baby Swank, Bitsy Beau, and Homemade by Amanda!
EMCA for February 15th through March 14th is now open. Let's see if we can make 50 treasuries this month!
Also
, look for an announcement soon in the forum regarding some changes to our awards system.

Etsy Tips
Promoting Your Shop without Breaking the Bank
By Jenny (louloututu)
So you have opened your shop and have items ready to sell, but now you need people to look at them and buy them!Check out these quick, easy, and often free ways to improve your advertising and bring attention to your shop!
1.
Share
your new shop with family and friends.Send them an email with the link and ask them to forward it if they like what they see.You could also consider a referral bonus system if it fits into your budget.
2.
Add
your Etsy shop name and a link to your email signature.
3.
Consider
starting a blog about your shop and your craft.You can blog about techniques, new listings, or other shops that catch your eye. Many sites offer free blogs, such as
Blogger
.
4.
Make
friends with other Etsy shops.Join in on the forums or join a team.The occasional visit to an Etsy chat room might also stir up some interest.
5.
Keep
business cards on hand.You never know when you are going to run into your next customer. Check out
vistaprint.com
and
moo.com
for free business card specials.
6.
Get
involved in your local community crafting groups (i.e., local craft bazaars, church fundraisers, school events). Locally built connections can form a great base clientele for any growing business.
7.
If
possible, wear, display, or use your own product or have someone do it for you.I have been stopped in the grocery store and asked where my tie-dyed tights came from. I was able to quickly produce a business card, and a sale was made right on the spot. You are your own free advertising!
8.
If
you do have an advertising budget, consider sites like
ProjectWonderful.com
, which allows you to develop an advertising campaign based on your craft and your budget.
Lastly, make sure that you are using Web analytics to track all of your efforts. Etsy offers information and instructions on how to
set up and use analytics
.
Good luck and happy promoting!

A craft home party provides another great opportunity to promote your business and sell your products; it is a concept that made Tupperware® a household name, after all. It's also a fairly inexpensive way to advertise, and it even allows you to do a little market research. While selling at a home party, you get to interact with potential customers and learn their preferences, their likes and dislikes. You can identify and narrow down your target market by noticing who buys and who does not buy your products during the party.
Types of Craft Home Parties
1. Formal Party
At this party, guests arrive at an appointed time and you make a simple presentation of your products. After the presentation or demo, you can offer samples and accept orders. This type of party works best when you have products that lend themselves well to demonstrations, such as bath and beauty items, cosmetics, or food.
2. Open House Party
This is one of my favorite type of craft parties to go to. It has a more informal setting and allows for more conversation with potential customers. Instead of giving a formal presentation, your products are simply displayed all around your host's home. Guests may arrive at various times during the open house, look at the displays at their leisure, and socialize with others. This type of party works well when you have products that don't really need demonstrations, such as jewelry, clothing, or housewares.
3. Teaching Home Party
This is similar to a formal party in that you also provide a demonstration. Here, however, you teach your guests a certain craft and they leave with a product they created. Guests usually pay a nominal fee to attend (for materials and your time). This type of party works well when your craft uses portable and fairly inexpensive tools and materials, such as scrapbooking, card making, and beading. At the end of the party, you may also offer to sell "craft kits" to the guests so they can continue practicing what they have learned.
Preparing for Your Craft Home Party
1. Venue
When deciding on a venue for a party, you have two choices: you can either host the party yourself in your own home, or you can find one of your friends or relatives to host a party for you. For the latter, your friend or relative offers her house as the venue and you, in turn, provide the hostess with a percentage of the sales and/or a gift bag filled with "freebie" items or product samples.
2. Invitations
Whether you are hosting your own party or having it at a friend's house, make sure you decide on the number of guests before sending out the invitations. You will also need to ensure you have enough room at the venue for the number of people invited. In the case of a teaching party, you will need to know how many tools and materials you need to purchase.
For an informal party where guests can come and go, you might be able to invite more people. If this is the case, make sure your invitations state that guests may bring friends. The more the merrier, and don't we always tend to spend more when we are with friends?
Make sure your invitations, whether printed out or sent via email, contain all the information your guests need to know—date, time, host's contact information, and if they need to arrive on time or if they can come and go at any time. Also include information on the forms of payment you will be accepting for purchases (cash, check, or credit card).
Ask guests to RSVP but remember that not all who confirmed will be able to come, and there might be guests who come but did not RSVP.
For teaching parties, it might be a good idea to include with the invitation a photo of the craft you will be working on at the party. Also indicate how much guests will have to pay for materials.
Make sure to also include your Etsy address so guests can check out your products beforehand if they want to.
3. Products
Identify which products you will display or present during the craft party. Bring more than you plan to display so you can replenish when needed.
For a teaching party, practice creating and teaching your craft beforehand. Also make sure you have a sample "finished product" to show your guests during the party.
For a formal or informal party, decide how you will display your products. Are you going to group them by type? By price range? By color? If you are selling jewelry or clothing, also make sure you have a mirror or a designated dressing room at the venue.
Prices should be clearly marked for each and every product.
4. Check Out
It is a good idea to have a designated check out area at the venue. Especially in an informal setting, guests need to know where to go once they are ready to purchase. Stock the checkout area with gift bags, tissues, business cards, and any other packaging materials you need for your products.
5. Miscellaneous
It is a party after all, so plan to provide guests with some snacks and drinks. For an informal party, you can play some festive music as well, but keep it low so as not to interfere with conversations.
You don't need to be the only seller at a party—you can always team up with other sellers for more fun and more guests. For example, if you sell kids' clothing, you can team up with a cupcake or cookie seller and have a little kids' craft party. Invite parents as well as kids, then teach the kids a simple craft while moms browse the clothes and enjoy cupcakes or cookies for snacks.
Last but not the least, relax and have fun at the party. As moms, we rarely get to go out and have fun with grown ups. What better way to do it than at a venue that can help grow your business as well!

Ask Me Anything
By Cara (lettermethis)
Question: My three year old does not want to go to sleep. He will get out of bed at least ten times before actually going to sleep. Any advice on how to keep my little guy's head on his pillow?!
Answer: Oh dear. Not an easy question. I have a three-year-old boy as well,and I've decided parenting a three-year-old boy is about the same as banging your head against a wall over and over again. According to the "experts,"the key is to maintain a consistent routine: bathtime, then milk, then teethbrushing, then two stories, and your child will automatically fall into some sort of coma. Sounds good, huh? And easy, right? And totally wrong. As well as not realistic for most of us.
At my house, for example, we don't do baths nightly. Because who has the time? When he is older and stinky, sure, I will make the time, but right now, we don't. He hasn't started smelling like a sweaty dog yet, so I think we're fine. Luckily, my son has always been a good sleeper (thank God). He is, however, difficult, as only preschool age kids can be, and by bedtime, I am DONE. At three years of age, children become scared of everything. We tried a stuffed animal, but that didn't work for us (though it might be an option for you). So we remedied this the only way we could figure out how: by sending our beloved Golden Retriever to sleep with him. This has really helped us. Now, our son won't sleep without her, and we have to watch her sulk. Every.Single. Night.
At our house, our bedtime routine has become: milk, brush teeth, read a story, snuggle time for a bit while my son twirls my hair, and then we bring in the ringer—Mabel. If you have a pet that you feel comfortable letting sleep with your child, consider giving it a try. If you don't have a pet, I don't suggest getting one just for this purpose. Potty training a dog when you finally have your kid potty trained sounds horrible, and more importantly, puppies don't have the temperament to be left alone with young children. If you have an older child that would entertain the idea of sharing a room with the younger sibling at night, that would work. A young child's fears at this age, along with the combination of a vibrant imagination, leads to a complicated combination.They will grow out of it. I think. :)
If you have a question about business, life, love, or the pursuit of happiness please email me at: lettermethis@yahoo.com.
Disclaimer: Advice given within this column is not done so by a professional. Any advice given should be considered subjective and within the spirit of friends offering help and information.

EtsyMom Featured Seller:
Jewelicide Jewelry
This month's featured seller is Mercella from
Jewelicide Jewelry
.
Tell us about yourself.
My name is Mercella. I'm originally from Connecticut but I currently live in the suburbs of Atlanta, Georgia. I majored in economics but my true passion is designing jewelry.
What do you create in your Etsy shop?
I create unique gemstone jewelry.
How did you get started in your line of business?
I started my business in 2000 at the age of 12 by making beaded jewelry and selling it at my mom's job. In 2006, I decided to start selling on Etsy and in boutiques.I started my Etsy shop because I felt that it was the next step for my jewelry business. I heard that Etsy had a great community where I could get criticism and feedback. It also received traffic from people that appreciate handmade goods.
Where to you get your inspiration?
My inspiration for Jewelicide comes from many different things such as the changes in the seasons, the flowers in my front yard, and my travels to various countries. I am also inspired by trying to find that perfect piece of jewelry for the right outfit.
What's your favorite item in your shop at the moment?
Right now, my amazonite and pearl earrings are my favorite. I just think they are elegant.
Where do you promote your work?
I promote Jewelicide through word of mouth, twitter, and my Facebook fanpage.
What's one of the most important lessons you've learned since starting your Etsy shop?
One thing I've learned since starting my business is to price my items appropriately. It's important not to undervalue your work.
What advice would you give to someone starting out?
If someone is just starting out, I would advise them to communicate with other artists in their field for tips and to tell everyone about their work. Word of mouth really helps.
Where can you be found online?
Cute and Kitschy jewelry shop:
allysin.etsy.com
Jewelry supply shop:
plurfection.etsy.com
Facebook fanpage:
www.facebook.com/jewelicidejewelry

Once again, you have made this month an amazing one. Comments or questions? Send an email to sykin.at.etsy@gmail.com or allyouneeddesigns@gmail.com, or leave them here. Thank you for making this such an amazing team!
Missie, Heather, and the rest of the Newsletter Committee