(
click here for a French translation of the Newsletter
)
Happy November to all of our fabulous members! Can you believe the holiday seasons are upon us once more? You'll notice the newsletter has grown from the first issue last month. I'd like to welcome Heather as the Newsletter Committee Co-Head and team moderator. Along with Heather, I'd also like to welcome the rest of the Newsletter Committee: Jenny and Tyia (Etsy Tips), Meagan, Nikki, and Maite (Tutorials), Meagan and Maite (Featured Shop), Cara (Advice), Stacie (Editor), and Natacha (Translation: French). I don't mean to put words in other's mouths, but we can't wait to bring you the newsletter each month!
There has been a lot of motion in the team lately. Along with the additions to the Newsletter Committee, we have added a few new moderators to assist. Please welcome Shy and Barb as our newest moderators. Shy is assisting Anastasia with the Social Networking Committee and Barb is helping Alicia and Alice with the Welcome Committee. To get to know more about your moderators, please visit this blog post.
And now on to our second edition of the EtsyMom Team Newsletter!
We would like to welcome our newest members to the group. These are members who joined between October 17 and November 16. Please stop by their shops, blogs, and profiles and say hello.
digthischick
*
Pixielane11
*
oceanbelle13.
*
paintandink
*
EtcHandcrafts
*
PeriwinkleJazz
*
NoheaDesigns
*
sewsewenchanting
*
Leapinglily
*
AngelLeighDesigns
*
Kellykrockerkreates
*
babeecrafts
*
krstapandkatie
*
kate kate nyc
*
NikkiRaeInk
*
KHIboutique
*
AquarianBath
*
zoegirldesigns
*
spiritedstyle
*
JewelsByJaz
*
NuMe
*
Crowsmack
*
petitetuques
*
natortiz23
*
ZoBeeCreations
*
LindsayJewellDesigns
*
BisonGirl
*
NeedleSpell
*
doubledotdesigns
*
SweetSparrowHandmade
*
littleshopofphotos
*
PaperXpressions
*
terrastreasures1
*
P2Charms
*
sweetcricketdesign
The following members are celebrating a birthday between November 17 and December 16. Make sure they are feeling the team love!
Would you like to make sure you're on the birthday list? Check your birthday in your team profile and you will be added when your birthday comes around.
Welcome to the newest members of the Special Events Committee:
TheCountryChic
,
MengMonster
,
RibbonsCurlsBowtique
, and
P2Charms
. The Special Events Committee is cooking up some wonderful team events for the holidays. We are opening the season with a Black Friday sale from November 26th through November 29th. Over 80 shops have signed up and will be offering fabulous deals on their handmade gifts. Thank you to
TheCountryChic
and
MengMonster
for jumping right in and promoting our upcoming events on the Etsy Forum, and to the moderators for all of their work.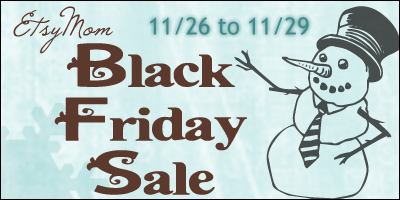 (
grab the promo icon here
)
Help us spread the word about our Black Friday sale on this thread
here
. To shop the sale on Etsy.com, search "EtsyMomSale." You'll find a little of everything from eco friendly + modern felt stockings, boutique-style children's clothing, cute Japanese handmade fabric button accessories, Twilight inspired jewelry, photography, handstamped cards, stationary, holiday decor, and more! EtsyMoms, feel free to use this write-up to promote the sale on your personal blogs. Here's a little preview of the participating shops.
lavenderave.etsy.com
*
petitetuques.etsy.com
*
mimimarie573.etsy.com
*
AngelLeighDesigns.etsy.com
*
louloututu.etsy.com
*
countrychiccottage.etsy.com
*
sykin.etsy.com
*
nwwonders.etsy.com
*
zoegirldesigns.etsy.com
*
allyouneeddesigns.etsy.com
*
guzanito.etsy.com
*
yjennings.etsy.com
*
LauraElainedesigns.etsy.com
*
miatortilla.etsy.com
*
PinkStripe.etsy.com
*
thelittleredwagon.etsy.com
*
anhoki.etsy.com
*
RockefellerJewelry.etsy.com
*
PeriwinkleJazz.etsy.com
*
ninabonita.etsy.com
*
monstermeng.etsy.com
*
woodenhive.etsy.com
*
meeabee.etsy.com
*
silverrosedesigns.etsy.com
*
http://www.rikrak.etsy.com/
*
bellerosedesigns.etsy.com
*
twistedribbonsbows.etsy.com
*
lisamicheleproducts.etsy.com
*
twolovebugs.etsy.com
*
stoneymistdesign.etsy.com
*
camelotstreasures.etsy.com
*
cr8something.etsy.com
*
scperkins.etsy.com
*
kitkatcreationsinc.etsy.com
*
homemadebyamanda.etsy.com
*
shopannavirginia.etsy.com
*
twosugarpeas.etsy.com
*
acheekymonkey.etsy.com
*
sreneedesigns.etsy.com *
anasbabycouture.etsy.com
*
monkeypoddesign.etsy.com
*
loveyoumoredesigns.etsy.com
*
Terrbear37.etsy.com
*
momscrafts4u.etsy.com
*
boutiquelittlepeople.etsy.com
*
theavidbeader.etsy.com
*
etsy.com/shop/USCGwife
*
babyjives.etsy.com
*
http://www.babyswank.etsy.com%20/
*
natortiz23.etsy.com
*
nume.etsy.com
*
www.etsy.com/shop/NewCreatioNZ
*
oceanbelle13.etsy.com
*
OrchidLaneDesigns.etsy.com
*
lifesoapsimple.etsy.com
*
peaceloveandkids.etsy.com
*
beyondwords12.etsy.com
*
TamsyTrends.etsy.com
*
nellaboos.etsy.com
*
babysindulgence.etsy.com
*
DaisyandLilly.etsy.com
*
DYEnamite.etsy.com
*
rockpapertekla.etsy.com
*
MommysDream.etsy.com
*
addybscakes.etsy.com
*
LoisAndLinnea.etsy.com
*
shoprhubarb.etsy.com
*
elizabeth71080.etsy.com
*
starknits.etsy.com
*
elisaann.etsy.com
*
feltedkitten.etsy.com
*
2sproutsandalilvoice.etsy.com
*
HandmadeWhimzy.etsy.com
*
lilprincessbow.etsy.com
*
cinnamonspice.etsy.com
*
katekatenyc.etsy.com
*
lilybugboutique.etsy.com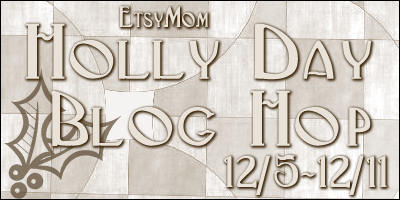 (
grab the promo icon here
)
Join us for our 2nd event as the EtsyMoms team hosts a Blog Hop! From December 5th through the 11th, over 20 of our team members will share their own brand of holiday inspiration in the form of a recipe, a tutorial, or some type of handmade goodness on their personal blogs. Even those without a blog can participate by having their post published on the team blog. The hop starts here on the
EtsyMom blog
. Those who enter the hop and leave a comment on each and every blog along the way will be entered to win a grand prize (several handmade items donated from our team). EtsyMoms, please help promote our Blog Hop by posting this write-up and the accompanying graphics on your personal blogs and other social media sites! I don't know about you, but I can't wait to get around to all the blogs to see what our EtsyMoms are creating for the holidays! Check back often for more details to come! Below is a list of all of the blogs participating in our Blog Hop!
http://twistedribbonsbows.blogspot.com/
http://funkypolkadotgiraffe.blogspot.com/
http://www.thecountrychiccottage.net/
http://rosewillarts.blogspot.com/
http://www.allyouneeddesigns.blogspot.com/
http://tctliebel.typepad.com/
http://www.rikrakstudio.blogspot.com/
http://singingthreelittlebirds.blogspot.com/
http://www.camelotstreasures.blogspot.com/
http://www.aloniacreations.blogspot.com/
http://homemadebyamanda.blogspot.com/
http://annavirginiafashion.blogspot.com/
http://www.mylavenderave.blogspot.com/
http://www.babyjives.blogspot.com/
http://www.babysindulgencebyjocelyn.blogspot.com/
http://rosewillarts.blogspot.com/
http://www.katekatenyc.blogspot.com/
http://pieceofmeagan.blogspot.com/
http://cinnamonspicecrafts.blogspot.com/
Also, don't forget to
sign up
for the Holiday Gift Swap (Secret Santa Exchange). Deadline is November 21
st
!
After a hard-fought, final hours battle, our winner is:
Baby Swank
with 23 treasuries! Congratulations!
Little Birdie Baby Shop
comes in 2nd with 16 treasuries.
Honorable Mention:
Country Chic Cottage
: 7
Handmade Whimzy
: 5
Laura Elaine Designs
: 5
Vintage Precious
: 4
All You Need Designs
: 4
KateKateNYC
: 4
All together we had 23 EtsyMoms participate, and we made 83 treasuries. Way to go ladies! It was so much fun to see all the amazing things we EtsyMoms make. We are off to a wonderful start!
Thank you to our great sponsors:
NW Wonders,
Lil Princess Bowtique
, and
Butterfly Gem.
The new EMCA begins Monday, November 15th and runs through December 14th. Our sponsors are:
Hot Lava Clothing
,
Lavender Ave
, and
All You Need Designs
.
We can use this to promote our team events that will be going on during this time. Remember to promote the treasuries on your facebook/twitter pages and blogs. Just to up the ante a little, let's try for 100 treasuries, and let's make them HOT. Check the forum for new treasuries often, and then go click and comment.
How to Make the Most of Treasuries
Treasuries are free advertising. Did I get your attention? A treasury I was recently featured in received over 13,000 views. That's 13,000 potential customers I wouldn't have reached without that treasury. Of course, not every treasury will reach that many views, but there are several ways you can help a treasury reach its full potential.
If you are creating the treasury, make sure all of the pictures will catch the eye of a random viewer. The first three items should be striking to a large audience. Etsy states that you should not put your own items in the treasury, and you should not repeat a seller. You can view the treasuries that make the front page for examples. After you have finished creating the treasury, save it, and then send a message to each seller with a link to the treasury. Don't forget to add the link to the
thread
that EtsyMom has set up. Hopefully, other team members will check it out, too.
If you have been featured in the treasury, always click on each item, leave a comment, and then share the link with your friends on Facebook and Twitter to help increase exposure. I usually tag my comments on Twitter with #etsymom, so there is already a thread to look at if you are new to Twitter. You can also try to reach your target audience with tags such as #baby, #babyshower, and #parenting. Don't be afraid of Twitter. It is also free advertising. All of you should have a Facebook page. These are also free, and fun! Check out
Malibu Quilts
on Facebook, if you want to see an example.
As a group, it is a good idea to check the EtsyMom link each day in order to boost traffic on your team members' treasuries. If you bookmark the page, one click will take you there. Don't forget to leave a comment and click on every item in the treasuries you visit. You can find the link to the EtsyMom treasuries thread here:
http://www.etsymom.socialgo.com/forum/topic/224/page/1
These steps do not guarantee a treasury will make it to the front page of Etsy, but they will definitely help give it a chance!
So you want to put some or all of your Etsy shop items on sale but don't want to go through the time-consuming task of changing each individual listing? I SO don't blame you—neither do I! Thank goodness some very talented people felt all Etsy sellers' pain when it came to this issue—including their own, I'm sure—and designed an application called Etsy on Sale. Etsy on Sale allows shop owners to set up sales with only a few simple steps, which we'll go over in detail in this column. With this simple tutorial and helpful application, you can easily set up a sale in your shop, just in time for the EtsyMoms Black Friday Sale! For more details about our team's Black Friday sale, check out our forum thread here:
http://etsymom.socialgo.com/forum/topic/248
!
• The first thing you need to do is find the Etsy on Sale app. You can either search for it by name on Google or locate it on Etsy.
• To find it on Etsy, first sign in to your account. Once you're signed in, go to
Your Etsy
, then navigate to the left sidebar under
Resources
and click on
Featured Apps
. You will find the
Etsy on Sale
app at the TOP of the list!
• Next, click on
SELLERS
at the top right of the page to sign in using your Google account. Don't have a Google account? You'll need one, so get to it!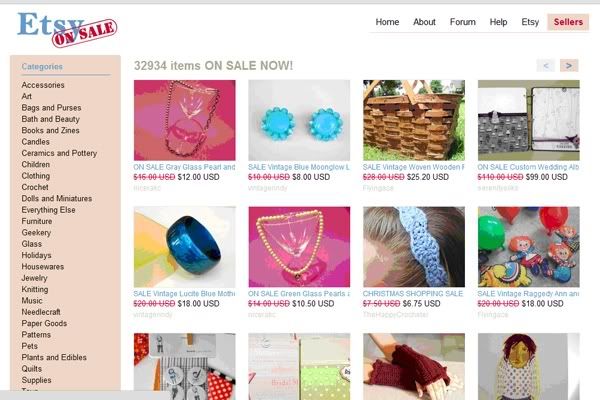 • Sign in, and then select your shop. Some of you may have more than one shop to choose from.
• Now you have to select your time zone. Doing so ensures that any future sales you schedule will go live at the correct time. You also need to allow the app access to your shop so it can put the items you want on sale. Don't worry…it's a secure page!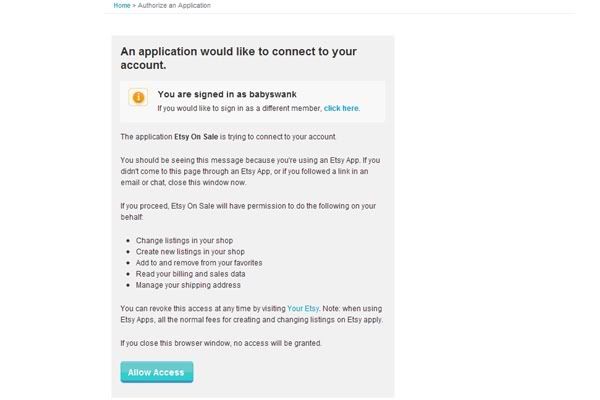 • Once you've completed these steps, click
done
. You are now set to select your shop and schedule some sales.
Schedule a Sale
• To schedule a sale now, click
Sales Events
. You will now see that you have no sales scheduled. Well, time to begin! Click on
+ New Sales Event
.
• Fill in the sale information and click
Schedule Sale
at the bottom. Simple and easy. Now you have a sale scheduled for either now or later! (The screenshot below shows some sales I have scheduled using Etsy on Sale.) Once your scheduled sale begins, your prices and titles will automatically change to what you scheduled them as. Likewise once the sale ends, everything will revert back to your original settings.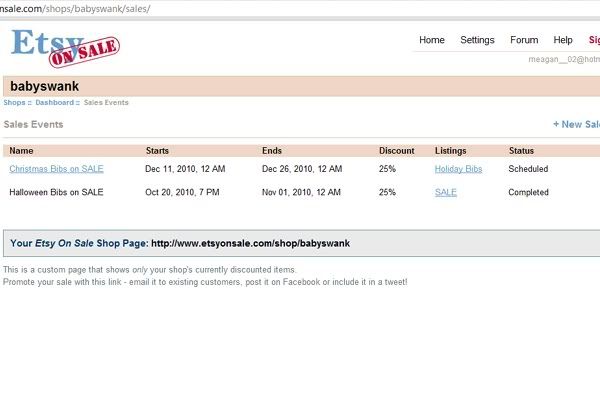 • To edit a sale's information, just click on the name of the sale you want to edit. Don't forget to hit
Save
when you're finished!
• To start a sale early, click the green play symbol at the end of the sale listing. To stop a sale, click the black stop symbol at the end of the listing. You may also delete listings by clicking on the red
X
at the end of the listing, too.
And that's it—your sales are scheduled. All done. The end!
I hope this has helped many of you prepare not only for some upcoming EtsyMom sales, but for many, many future sales as well! If in the future you have any requests or suggestions for tutorials for the EtsyMom Monthly Newsletter, feel free to leave us a message…that's Meagan – Baby Swank, Nikki – Nikki Rae Ink, and Maite – Tamsy Trends! Thanks so much!
Ask Me Anything
by lettermethis
I just started a blog, because it has been suggested to help with business and sounded like it might be fun. But, I have a whopping 13 followers... How do I get more people to follow?
Besides friends and family, your initial readers (aka potential followers) might find you via the "Next Blog" link, randomly.
Some will find your blog through search engine hits, from meaningful searches of topics you cover.
Some find you because they follow someone who follows your blog. I call this "blog hopping."
Use a visitor meter to monitor the visitors to your blog. Flagcounter, SiteMeter, and StatCounter are free and have been recommended to me by others. I use Google Analytics on my Etsy page and blog. Although truth be told, I have become a horrible, terrible, no good, very bad blogger.
I have enjoyed Facebook as an avenue to find more "eyes" on my etsy shop and get more sales.
If you are active on Facebook on a personal level and haven't yet started a business page, I encourage you to try FB as a helpful tool. After you have a good following, offer a giveaway. Cross promote on your blog and FB page. Give an entry for becoming a follower on your page and an entry for "liking" your FB page.
Here are some helpful tips I've found:
1. Have friends link to your blog, wherever your blog is relevant.
2. Participate in forums, wherever your blog is relevant, and include your URL.
3. Comment on other blogs. If you say something useful and relevant and don't just hawk your blog, the blog owner and other readers will be compelled to check out your blog.
4. Put useful and meaningful content on your blog.
5. Some search engines can index your blog using the site feed. Make sure it is enabled.
6. Post frequently and keep the content of your blog interesting and fun to read.
7. Disable comments. Blogs with all the articles having 0 comments demeans the content and worth to readers. If there is not place to comment, readers can't tell if only your mother reads your blog.
8. Invite guest bloggers to write short articles for your blog. It will flatter a more seasoned blogger and almost guarantees a link on their heavily followed blog.
Good luck! Do you have a question about life, love, business, parenting? Or a question about the love while doing the business of parenting and trying to maintain your life??? Please send your questions to
lettermethis@yahoo.com
.
This month's featured Etsy seller is Kathy Hoelzlhammer, the talent behind CraftsbyKASH (
http://www.etsy.com/shop/craftsbykash
). A lover of sewing, she does a wonderful job giving new life to scraps and extra pieces of fabric, the ones usually left and discarded after other sewing projects.
Tell us about yourself
I have been a stay-at-home mom my whole 28 years of marriage and I have 4 grown children (not all out of the house though!). Our only son, who is 28, is also our oldest. He has 3 younger sisters, ages 22, 22, and 21. No, that was no typo. I have twins.
What do you create/offer in your Etsy shop?
At present, I'm in a transitional stage. I carry knits, doll clothes, a quilt every now and then, bags, and purses.
How did you get started in your line of business?
I love to sew! Ever since I was little, I was making doll clothes and clothes for myself. When my husband and I were first married, I started making soft dolls. I made a lot and they started to take over! My mom suggested selling them at a flea market. I did it just to get the experience, and that experience turned out okay.
After moving to Green Bay, I decided to try doing a craft show at the mall. That's when I got hooked on selling! I nearly sold out of everything that I'd made! After nearly ten years there, we moved to Wisconsin Rapids, where I was born. There, raising our kids took most of my time. (I was the "Mom Bus" or Taxi service…sound familiar?) As you know, trends and tastes change through time and I have had to adapt to these changes to try to find the right niche. My sister discovered Etsy, and she also helped get me started on an interesting journey into the internet sales world!
Where do you find your inspiration?
It's hard to explain. I don't even know sometimes. Sometimes, inspiration comes after listening to a song. Sometimes, it comes from a comment from a customer or just out of necessity or from something I need for my own personal use.
What is your favorite item in your shop at the moment?
My favorite absolutely has to be the Bucket Bag! It is an original design that I made years ago and that I have revamped this past year! It can have so many uses, and because it's lined it makes it even more attractive, plus it's machine washable! What more could you want!
How do you promote your work?
Promotion has been one the hardest things for me. I like to design. I finally joined Facebook (using my really name not my shop name), and I have been doing the promotional threads on the Etsy forums. I have linked to the blog,
http://www.honoringtheking.com/
, and I am trying to find some others. I don't blog myself (I didn't know what it was until recently.) This has all been a learning experience all the way.
What is one of your most important lessons you've learned since starting your business and what advice would you give someone just starting out?
Never give up! If God meant for you to be doing this, then you've got to stick with it. I know at some point, it will pay off. Also, "try and fail, but don't fail to try." We all have designs that we've made that just didn't work or there was something not quite right. Design is just that. It is experimenting until you find that right combination so Happy Creating and Create from the Heart!
That's it for this issue of the EtsyMom Team Newsletter. We hope you have enjoyed it! If you have any comments/questions/contributions for the newsletter, please send them to Missie (
sykin.at.etsy@gmail.com
) and Heather (
allyouneeddesigns@gmail.com
).
Here's to a fantastic holiday season!